We've all been there. Wanting to drop a few pounds and start healthy habits but just not sure where to start.
I needed a change. I had recently had a baby, have other kids to run after and felt controlled by my sugar carvings. I needed help.
So when I heard several of my friends tell me about this program called Whole30, I was intrigued.
A little research revealed a simple method based on the premise of eating whole foods, cutting out those that tend to cause inflammation and focusing on healing from the inside out.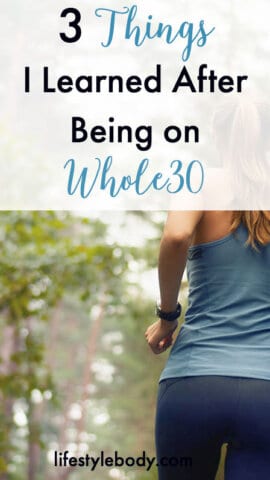 More reading showed that to do the program you had to cut out all sugar, grains, dairy and legumes. "What was I going to eat?!" My mind raced.
Contrary to my first impression, you can actually eat a lot. Meats, veggies and fruits fill up your daily diet that was once consumed with not so healthy choices.
I decided I needed to jump in with both feet.
After a week of being on Whole30 I can confidently tell you I like what I'm seeing. I've also been surprised by a few things I wasn't expecting…
I Discovered New Foods
Well, not technically. I knew they existed. However, because I hardly ever bought or ate these foods like hot peppers, they felt like a new discovery.
To be completely honest, going into this I thought I would only be eating raw carrots and boiled chicken every day. Wow, that could not be farther from the truth.
Not only have I had variety but I also have yet to cook the same dinner two nights in a row!
From grilled salmon to Shepherd's Pie to Crockpot chicken fajitas (just put it on lettuce instead of a tortilla!), I'm honestly thoroughly enjoying what I can eat every night. And it doesn't stop with dinner. The salads, simple meat dishes and combination of different fruits and veggies have made every meal enjoyable.
Avocados with scrambled eggs combined with a side of strawberries for breakfast? Yes, please! Cooked seasoned chicken with a sweet potato (complete with ghee and salt) and a bunch of grapes for lunch? Divine.
Sure, I knew these foods existed. But I didn't have a working knowledge of how I could use them on a daily basis. Not only have I been surprised, but my taste buds are rejoicing in the change.
I Discovered Spices
Another area where I have been completely surprised is in the realm of seasonings. Did you know there is more than salt to season your food? I know. Amazing, right?!
Before this diet I realized I only "seasoned" my meals with salt and dairy products. When something needed more flavor I would simply add cheese.
Now, I'm not totally against dairy. One of my life goals is to own a jersey cow. However, this journey has shown me how narrow my culinary experience was before.
Believe it or not, you can eat carrots without ranch dressing, and still enjoy it. Anyone ever sauté carrots with thyme, cinnamon and a sprinkle of salt? Try it. You won't be disappointed.
And then there are roasted veggies. This simple (and easy!) dish has opened up a whole new world for me as it relates to seasonings. Get creative and add basil, oregano and salt to your next batch of broccoli. Cinnamon on homemade sweet potato fries? Try it and you won't buy the stuff in the bag anymore.
Sugar Zaps More Energy Than I Realized
One amazing thing that has come out of this adventure is the new level of energy I have. No longer do I struggle with the after meal slump or feeling like I need a 2 hour nap every afternoon.
Even if chocolate was not on my menu (and it often was), my consumption of super refined grains in the form of store-bought bread and pasta plus all of the high fructose corn syrup found in many of my other staples left me dragging throughout the day.
I used to blame my constant state of tiredness on my stage of life. I'm the mom of a newborn and multiple other kiddos all under age 8. Of course I'm tired! However, after simply changing my diet I have more energy than ever, despite the multiple nightly feedings!
Munching on apples or almonds for snack, eating high protein meats and raw fruits and veggies for meals, and downing non-sweetened beverages have left me feeling refreshed and nourished.
This is Just the Beginning
So I've done it a week. I'm excited by what I see both in my energy levels and the way that I feel throughout the day.
Finding food to eat has not only been doable, but has become a fun and exciting adventure. I am also excited about the healthy habits it is creating in my family's lifestyle.
So would I recommend this program to you?
Absolutely! Jump in. Learn about the food groups that used to sprinkle your daily diet. Not only will you feel better, but you will also have a blast along the way.
How about you? Have you tried the Whole30 challenge? What have you learned along the way?