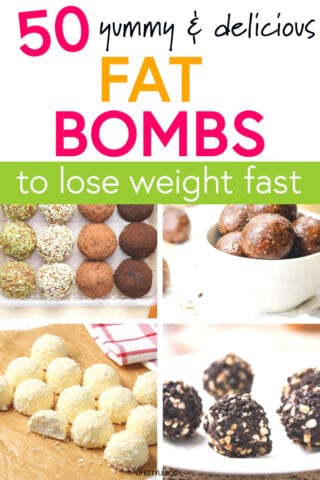 This time will be different.
Yes – this time you will lose weight and nothing is stopping you, except –
The craving for sugar.
What if I told you that you can curb that craving for sugar easily by eating fat?
Yes, good fat is healthy.
And you can use this to help you lose weight. Some easy keto snacks you can make quickly are fat bombs.
What are Fat Bombs?
Fat bombs are the latest in keto-friendly snacks that have people running to the store for ingredients.
Also called Keto Bombs, these fat-dense treats are not only low-carb, but are designed to keep you feeling full longer. Followers of the keto diet eat Fat Bombs as a high-energy snack, as a pre-workout snack, or to help curb cravings.
Fat Bombs (which can be sweet or savory) typically feature three types of ingredient:
Something high in fat (e.g. avocado, coconut, salmon, nut butter)
Something flavorful (chocolate, fruit)
Something for texture (nuts, coconut)
Ready to see what all the fuss is about? Here are 50 delicious sweet and savory Fat Bomb recipes to try out!
Sweet Fat Bomb Recipes
1. Strawberry Cheesecake Fat Bomb
Craving strawberry cheesecake? This keto spin on the dessert will be your new fave!
2. Maple Peanut Butter Fat Bomb Fudge
With just 3 ingredients you probably have in your pantry now, you can whip up this peanut buttery delight.
For a bit of crunch, add some peanuts on top!
3. Cookie Dough Fat Bomb
You had me at cookie dough!
This combo of macadamia nuts and chocolate sounds like a sweet and salty dream!
4. Cookies and Cream Fat Bomb
These cookie and cream beauties have the added bonus of being gluten free!
No need to feel guilty with these fat bombs!
5. Mocha Latte Fat Bomb Bar
Coffee? Yes, please!
Check out this espresso and vanilla-infused fat bomb to jumpstart your day.
6. Very Berry Fat Bomb
Fruit lovers, rejoice!
This fat bomb is packed with strawberries and blueberries.
7. 3-Ingredient Macadamia Nut Fat Bomb
Macadamia Nuts, Cacao Powder, and Coconut make this an easy and tasty choice!
8. Lemon Cheesecake Fat Bomb
Here's another cheesecake taste sensation to thrill your taste buds! This time it features the tartness of lemons. Yum!
9. Raspberry Jelly Fat Bomb
This raspberry-filled fat bomb sounds delicious!
And I bet it tastes just as good with other jelly flavors.
10. Speculoos Cookie Butter Fat Bomb
These are super simple to make and you can pop these in your mouth whenever you are craving some sugar.
11. Jello Cup Fat Bomb
12. PB&J Fat Bomb
Peanut butter & jelly fat bomb? Perfect and nostalgic!
13. Salted Fudge Fat Bomb
Tell me you have something that's sweet AND salty and I'm here for it! Plus…chocolate. Enough said.
14. Blueberry Lemon Coconut Cream Fat Bomb
With ingredients like blueberries, lemon juice, and coconut cream, I can't imagine that this colorful fat bomb is anything but delightful.
15. Almond Butter Cheesecake Fat Bomb
This creamy fat bomb is rolled in dark chocolate to give you a low sugar snack that still manages to satisfy your sweet tooth.
16. Blueberry Fat Bomb
If you like it super simple, these blueberry fat bombs (with just a hint of banana flavor) might be the perfect fit!
17. No-Bake Brownie Fat Bomb
No-Bake Brownies. Do I really need to say anything more?
18. Caramel Chocolate Chip Cookie Dough Fat Bomb
19. Peanut Butter Fat Bomb
If you love peanut butter, this simple fat bomb will probably be your favorite. Roll them in coconut for a bit of sweetness.
20. Coconut Chocolate Peanut Butter Cup Fat Bomb
We imagine that eating this fat bomb is like biting into a Mounds Bar. Try it and let us know!
Savory Fat Bomb Recipes
21. Fat Bomb Butter Burgers
If you live cheeseburgers, this juicy fat bomb should be right your flavor alley.
22. Everything But the Bagel Fat Bomb
Going low-carb, but hate to give up your favorite bagel? This tasty fat bomb had all the flavor of the everything bagel, without all the carbs.
23. Everything Smoked Salmon Fat Bomb
Channel your inner New Yorker with this fat bomb that night just be inspired by lox with schmear.
24. Bacon Cheddar Fat Bomb
These look like they will be tasty as a standalone snack or paired with a meal.
25. Brussels Sprouts Fat Bomb
Brussels sprouts never looked so good!
26. Chicken Bacon Cheese Fat Bomb
This fat bomb sounds absolutely too good to be healthy, but they make a perfect keto snack or appetizer.
27.Bacon Egg and Avocado Fat Bomb
Three keto staples. One delicious snack.
28. Zucchini Bacon Fat Bomb
Filled with eggs, bacon, and zucchini, this fat bomb is tasty and nutrient-dense.
29. Breakfast Bombs
30. Sausage Jalapeño Popper Fat Bomb
This is like keto Inception! A jalapeno popper wrapped in ground chicken wrapped in bacon.
31. Chicken Parmesan Fat Bomb
This fat bomb sounds like the perfect bite-sized comfort food!
32.Meatloaf Muffin Fat Bomb
Snack size meatloafs? Why, yes, I think I will!
33. Jalapeno Popper Fat Bomb
Here is another jalapeno popper fat bomb, except this one is rolled in pork rinds.
34. Buffalo Chicken Fat Bomb
Apparently, this recipe is amazeballs!
35.Bacon Cheese Stuffed Mushroom Fat Bomb
These look delish and can be found in the Keto Comfort Foods Cookbook.
36. Brie Prosciutto and Pecan Fat Bomb
These look so tasty and so easy to make!
37. Bacon and Pepper Stuffed Mushroom Fat Bomb
Here's another fat bomb that pairs mushrooms with flavorful ingredients.
38. Savory Truffle Fat Bombs
For when you want to get a little fancy.
39. Garlic Parmesan Fat Bomb
With this fantastic flavor duo, you just can't go wrong!
40. Avocado Bacon and Mozzarella Fat Bomb
Three of our favorite things to eat!
10 More Fat Bomb Recipes
Check out these tasty fat bomb recipes:
Best Fat Bombs to Help You Lose Weight
Aren't all these fat bombs amazing? They look so delicious and super easy to make.
Make a few batches of the sweet and some of the savory and pop them in the freezer to take out the day of!
Have fun losing weight!