Call it what you want – a "cheat" day, a girl's night out, dinner at the in-laws – but you slipped up with eating junk food and now it's time to pick yourself up and try again.
And if it was more than one day – ahem, four weeks isn't really a month, right? – you can still turn it around.
This is the perfect time to restock your fridge and get some new cuisine rockin' in your kitchen with plant-based recipes your body, wallet and conscience will feel great about.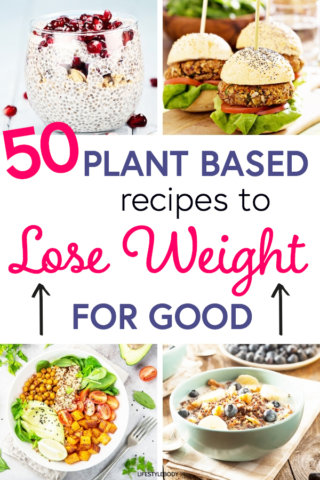 Does the cost of a night out with friends and family need to come with a more pronounced belly or butt though?
While your husband may not be complaining about the extra junk in your trunk, you're probably feeling pretty weighed down.
And let's be honest, you've probably been carrying the extra weight around all year and is only seeming to grow with each season that passes.
No more!
A plant-based diet doesn't need to be hard and won't leave you feeling deprived or hungry because you'll be getting all the nutrients your body craves with foods that come from the earth.
Instead of attempting a crazy cleanse that leaves you feeling starved and bound for failure, a plant-based diet naturally detoxes your body and cleans your mind and organs of the gunk that's holding you back from living your best life.
By eating mostly plants, you are following a plant-based diet which will naturally help you shed unwanted weight.
That's it. Nothin' crazy or complicated about it.
If you're continuously living in stretchy pants (leggings are pants, right?), here are some easy plant-based recipes for weight loss to help you get back to feeling like yourself by ridding the ol' ball and chain of chub you've been lugging around.
Before we dive into the best plant-based recipes for beginners, check out these awesome resources to help you be more successful when starting a vegan diet.
Vegan Resources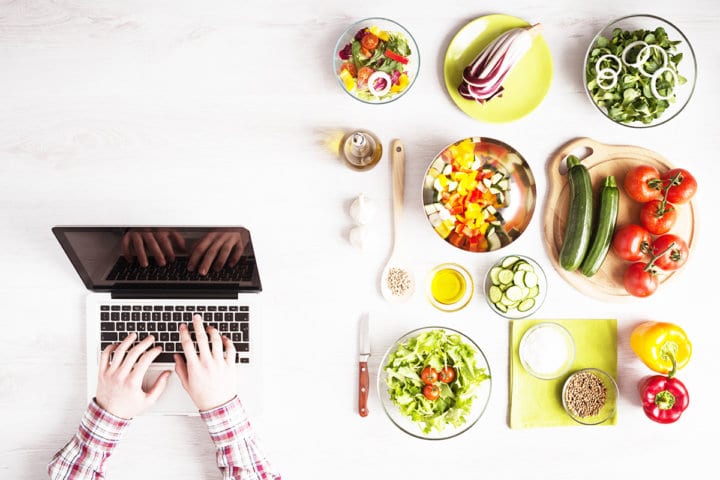 Simple Green Meals: 100+ Plant-Powered Recipes to Thrive from the Inside Out, by Jen Hansard is top notch because the meals she offers are delicious but super simple.
She knows what it's like to battle extra pounds and feel tired all the time and how making a green transformation not only improved the quality of her family's life but helped all her wildest dreams come true too.
She provides recipes that even your meat-loving SO will crave and believes that by correctly fueling your body, you'll be able to feed your passions in life no matter how out of reach they seem right now.
You want climb that mountain, run that spring marathon or swim the seven seas? Let's do it, sista. I'm totally on board with turning fantasies into reality this year, and Jen will help you get there.
Love Real Food: More Than 100 Feel-Good Vegetarian Favourites to Delight the Senses and Nourish the Body, by Kathryne Taylor is a book by the creator of Cookie and Kate, the internet's most popular vegetarian blog.
This book is filled with amazing plant-based recipes and pictures to get you pumped up.
Kathryne has a cool approach to delving into this way of life and will have you singing praise to the kale and quinoa gods with the delicious food creations she and her doggie sidekick (Cookie, the sous chef) have in store for you.
How Not to Diet: Discover the Foods Scientifically Proven to Prevent and Reverse Disease, by Michael Greger M.D. has become my other go-to because it really drives home the message that certain foods can really change your life for the better in countless ways.
Disease brings dis-ease, and a plant-based diet has been scientifically proven to reverse and prevent disease and ailments and bring about a sense of ease and superhuman-like health in the process.
Instead of combating illness with prescription pills or surgery, Michael believes that plants are the answer for the cure.
Plant-Based Recipes for Breakfast
If you're wondering how you'll survive breakfasts without eggs and bacon or buttery, milky pancakes, no need to fret!
There are countless ways of spicing up your morning meals in a meatless but yummy way. Breakfast is the most important meal as they say, and there is no shortage of vegan dishes to get you moving and shaking on the start of another awesome day in your new life with these recipes!
1. Vanilla Rice Pudding Topped With Fresh Berries and Melted Nougat
This vanilla rice pudding with berries and nougat is calling my morning's sweet-tooth name.
It looks almost like this dreamy-looking breakfast would be bad for you, but it's made out of all natural ingredients that will have you singing and dancing around your kitchen table with its heaven-like appearance and taste.
2. Fancy Toast
If you're looking to jazz up your toast, this #fancytoastfriday inspo will do the trick and takes the classic avo toast up a few levels of awesome.
Healthy fats from foods like avocado are satisfying and contain lots of fibre to help keep you full and happy all morning long.
3. Cheesy Onion-y Pancakes With Pesto Cream Sauce
Oh, you fancy, huh?
If you're digging something more savory and have a craving for pancakes, these ones will do the trick. These pancakes are chocked full of nutrients and vitamins (unlike the buttermilk variety).
The variety of colors in the plant-based breakfast dishes that you can make will awaken your body and soul and leave your mind wondering what's next!
4. Vegan Ice Cream
Even vegan ice cream is healthy!
Did someone say ice cream for breakfast?! Count me in!
5. Vegan Pancake
Vegan pancakes with HEALTHY Nutella! Yes! For a beginner plant-based dieter, this is a great meal to try and find out that going vegan doesn't mean starving or denying cravings!
6. Chocolate Blueberry Sandwhich
This can be made for a breakfast, right?
7. Pomegranate Raspberry Chia Pudding
A hearty pudding for the morning to last you hours!
8. Healthy Sweet Potato Toasts
Full of healthy fat and healthy carbs, this is the perfect post workout breakfast!
9. Smoothie Bowls
These are the total plant-based rage right now.
10. Fruit Salad With Coconut
A simple and easy recipe any beginner vegan dieter can do!
Plant-Based Recipes for Beginners
If you're looking for plant-based recipes on a budget and wanting to keep it simple and uncomplicated, just remember to fill your grocery basket with greens, fruits, nuts, seeds, whole grains, and healthy fats.
Shop in-season fruits and vegetables for the lowest prices and consider buying frozen and canned to save some money too.
Eating plant-based might require you to eat more rather than less to eat to satiety so buying in bulk is a great option to consider so that you don't have to make as many trips to the store and will get you the best bang for your buck.
11. Vegan Macaroni
This is a vegan macaroni dish that looks easy to recreate and is much healthier than the processed box kind.
Plantbasedblonde's feed is full of other easy to recreate recipes with an endless supply of ideas for vegan tacos, pizza, burgers, salads, and sandwiches and more.
12. Vegan Margherita Pizza
Who said you have to give up pizza to be healthy?
13. Sweet and Sour Tofu With Broccoli and Noodles
Doesn't this plant-based recipe look delish? While you may not have every ingredient for this dish – like gochujang – you can substitute heat with other types or make it spice-free.
14. Flatbread Melts
After a long day at work, you just want to eat something that's quick and easy. Well, this yummy flatbread recipe is just the ticket. With less than 10 ingredients, you can whip this up in no time!
15. Creamy Mushroom Soup
Having a hearty meal is a craving for a lot of vegans. Well, this hearty mushroom soup will fill your soul for days. With easy ingredients, any new plant-based beginners can make.
16. Wild Rice Sweet Potato Salad with Chili Lime Vinaigrette
Yum! This recipe does require more than 10 ingredients, but it's super fresh and super tasteful. Make this for your lunch and watch your co-workers wanting some!
17. Vegan "Meatballs"
Spaghetti – a staple for most people. And it still can be for vegans!
18. Red Lentil Pasta With Fresh Tomatoes and Basil
If you are also avoiding processed wheat, this red lentil pasta recipe is perfect!
19. Veggie Bagels
A perfect lunch that you can make the night before!
20. Easy Falafel and Tahini Sauce
Chickpeas is a huge staple in the plant-based diet. And it's highly versatile too! You can make burgers, meatballs and falafels!
Plant Based Dessert Recipes
You're not suppose to indulge when dieting, but with a vegan dessert, you're only eating healthy ingredients. So, go ahead – indulge!
21. Chai Hot Chocolate
Only the vegans can come up with an awesome drink! Have your friends come over and serve this beautiful smelling drink!
22. Chocolate Mugcake
You had me at mugcake. Yes! Perfect size for a treat.
23. Vegan Chocolate Brownies
Even kids won't know this isn't a real brownie!
24. Choc Chunk S'Mores and Oreo Chocolate Chip Cookies
Another creation that only vegans can come up with!
25. Vegan Donuts
Homer from the Simpsons would attack these donuts for sure!
26. Best Chocolate Chunk Flax Muffins
A chocolate muffin that keeps you regular! Sign me up!
27. Tiramisu Crepes
So decadent and healthy too!
28. Watermelon Nicecream
Do I need to say more?
29. Raw Caramel Brownies
No cooking involved for these delicious vegan brownies.
30. Plant-Based Peppermint Patties
A classic dessert plant-based style!
20 More Quick Plant Based Recipes
Check out these super easy and super quick plant-based recipes:
After making these 50 recipes, you'll be on your way to graduating to a Level 5 vegan like this guy:
And, this will have you wondering why you didn't find this way of life sooner.
With so many communities online supporting a plant-based lifestyle, it is easy to get started, and there is plenty of support and resources out there to help you reach the life you deserve.
Following a plant-based diet is a surefire way to start feeling lighter and freer. It will put you on a path to celebrating a healthier body and mind as you've never thought possible before.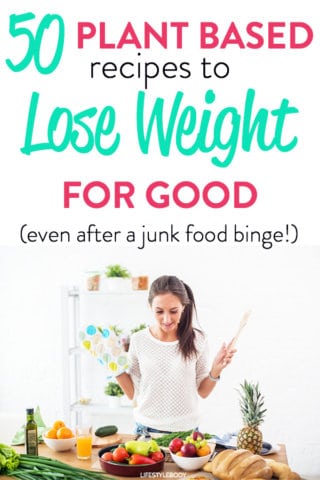 And who knows, your skinny jeans might just turn into your "fat pants."
The thing is, though, you won't have to count calories, and you don't have to think of it as a diet at all. This is a way of being, and natural weight loss will just be a side effect of bringing your life into better balance and harmony.
Are you ready to see what the fuss is all about? Go get it, girl!
Tell me in the comments your favorite vegan recipe from this list!
Please remember to pin me!