Getting started with fitness and nutrition can seem overwhelming. There are plenty of questions to consider: Where do I begin? How can I hold myself accountable? What is the best program for me?
Having a friend, partner, or community can help you stay motivated and focused. It can be the difference between sticking to your goals and throwing in the towel.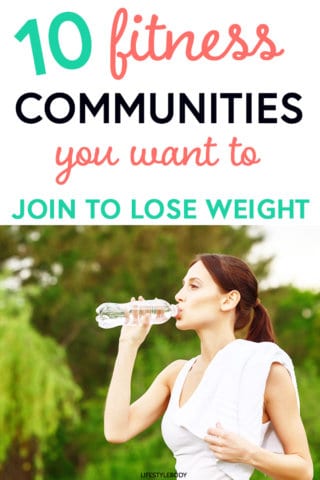 Social media has become an endless source for fitness trainers and bloggers but finding the actual experts can be difficult. It can be hard to tell what a trainer's or nutritionist's qualifications are. Worse, they may have no formal training and experience at all. Some even use the, "well this is what worked for me and I look great" method of training.
Unrealistic expectations, body image issues, misinformation, or even injury plague the social media fitness industry.
The good news is that there are plenty of reputable trainers, nutritionists, and fitness communities out there. When you find a group you're interested in joining, make sure you check for:
Training & Certifications
Education
Years of Experience
Publications
Partners
Testimonials
Here is a list of ten health and fitness communities created by expert trainers, nutritionists, physical therapists, athletic trainers, and medical professionals.
Whether you're just starting out, you've been training for a long time, you're interested in healthy eating, or just need some motivation – these are communities that provide support, advice, and guidance in a fun and effective way (in no particular order).
1. Girls Gone Strong
Founded by a group of strong and powerful women who believe the fitness world should strive to help women be more, not less. The GGS community knows there is no "wrong" body. They provide women with information and resources on programming, self-confidence, injury prevention, fat loss, and strength training.
The GGS advisory board focuses on content that helps women reach their goals in a realistic, sustainable, compassionate, fun, and healthy way.
Level: All Level
Price:$ – $$
Why Girls Gone Strong?
Plenty of free content on the website
Focus on mindset, confidence, strength training, conditioning, and nutrition
Expert advisory board
Social media community is open to all
Range of paid content from $99 +
Personalized coaching program
Vast video library with expert advice on proper form for exercises
20+ hours of free presentations
Programs adaptable to any training environment
In person events (such as the Women's Strength and Empowerment Weekend)
2. Black Girls Run
Black Girls Run was formed by Toni Carey and Ashley Hicks-Rocha to address the growing obesity epidemic in the African-American community. The extremely supportive program encourages all women (especially African-American women) to lead healthy lifestyles.
Their movement is over 160,000 women strong and growing.
Price: $
Level: All Level
Why Black Girls Run?
Supportive and welcoming community for all levels
Becoming a member is free
Over 70 running groups across the country
National events and races listed on the website
Discount codes for races
Newly released podcast brings Toni & Ashley right into your headphones
Focus on being inclusive and empowering
3. Mark Fisher Fitness
Mark Fisher Fitness is all about providing a community that is fun and inclusive. Unfortunately, they only have locations in New York City but that doesn't mean you can't be part of the community. The MFF blog provides great content for those feeling like the fitness industry hasn't been for them.
Creator Mark Fisher started the clubhouse to prove that a gym can be more than just a place to workout. The Enchanted Ninja Clubhouse of Glory and Dreams helps make fitness as enjoyable as possible.
Price: $$
Level: All Levels
Why Mark Fisher Fitness?
Three free video workouts just for going to the website
Free health and hotness strategy session to check out MFF with no commitment
Online supportive community if you do not live in New York City
Consistently updated online content to the blog
Group class memberships, semi-private training, and bundle memberships
Snatched In Six Weeks course to jump-start your fitness goals
Two locations in Hell's Kitchen and Bowery (NYC)
4. Beyond Fit Mom
Founder Kate Homey was a new mom and personal trainer who was frustrated with the lack of information out there. As a busy mom, she didn't have hours to spend in the gym and kitchen. Her small blog developed into a complete fat-loss system and community for busy moms worldwide.
Level: All Levels
Price: $-$$$
Why Beyond Fit Mom?
Plenty of free resources to help moms stay healthy, happy, and balanced
Focused content on fit pregnancies and postpartum fat-loss
Consistently updated blog content with recipes, workouts, and tips
Online monthly membership to BeyondFit Life Club that gives you access to fat-burning workouts, fast & simple recipes, live online support, and more ($34-420)
Fat-loss coaching for moms called Beyond Baby ($197- $794)
BeyondFit Boot Camp (if you live in North Carolina)
One-on-one Nutrition Coaching
Energetic and passionate training team
5. Robb Wolf
Ever heard of the Paleo Diet? Yup, that's Robb Wolf. Robb is the New York Times best-selling author of The Paleo Solution – The Original Human Diet. His book and seminars created a community that helps people truly transform their lives.
Level: All Levels
Price: $
What Robb Wolf Offers:
Wide range of content from proper biomechanics, mobility, resistance training, weight loss, paleo diet, gluten-free eating, anti-inflammatory nutrition and even sleep
Blog content written by experts in their field
Top ranked podcast, The Paleo Solution
Free resource library including ebooks and other digital resources
6. Athlean X
Athlean-X was created by Jeff Cavaliere, who served as the head physical therapist and assistant strength coach for the New York Mets. Although the red and black aesthetic on the website lends itself towards a mens demographic, Cavaliere's programs are equally as powerful for women.
Athlean-X programming helps you unleash the athlete within. The programs are slightly advanced but Cavalier understands the importance of progressive programing within exercise (you work your way to where you want to be).
Level: Intermediate – Advanced
Price: $$-$$$
Why Athlean-X?
Wide range of programs depending on your level and fitness goals
Programs designed specifically for women
Month long programs that are routinely updated
Vast free video library on Youtube updated weekly
Each program comes with explainer videos to help you understand the reasoning behind every workout as well as explanations of how to perform exercises
Consistently answers questions from online community members. Discussions include mobility, exercise technique, physical therapy, programming, muscle isolation, athletic performance, nutrition, and recovery
Meal plans included with each paid program
7. Roman Fitness Systems
Roman Fitness Systems was founded through the personal training and blogging efforts of John Romaniello. RFS looks at fitness as a lifestyle rather than cookie-cutter advice and programming. As long as you have a take-charge mindset, RFS will help you reach your goals.
Level: Intermediate – Advanced
Price: $-$$$
Why Roman Fitness System?
Free content through blog
Free newsletter to receive updates and notifications for newest content
Online fitness coaching that gives you completely customized monthly training and nutrition protocols.
Roman is the New York Times best-selling author of Engineering the Alpha
30-Day program designed to build muscle
Ebooks and training programs available for purchase in the online shop ($20 -$100)
8. Healthy Grocery Girl
Healthy Grocery Girl is a nutrition services company founded by Megan Roosevelt. The company focuses on helping busy people enjoy real food. Healthy Grocery Girl is great for dairy-free, gluten-free, vegan/vegetarian and even paleo lifestyles.
Level: All Levels
Price: $-$$
Why Health Grocery Girl?
Youtube channel provides weekly videos with recipes and tips
Free meal planning kit
Free newsletter to stay updated on the latest content
Membership includes seasonal meal plans, shopping lists, recipe libraries, and wellness videos
Community plans can be tailored for individuals, groups, companies, and brands
Private Facebook group for the community to provide support
Exclusive Healthy Grocery Girl product line
Personalized nutrition coaching
9. Whole30
Whole30 launched in 2009 when co-founders Melissa and Dallas Hartwig shared their 30-day dietary experience. The community has grown to over a million strong and includes four New York Times best-selling books.
The community focuses on clear guidelines and support to help you reset your body. While the Whole30 program might seem limiting, for those struggling with severe anti-inflammatory digestive issues, it can be a life changer.
Level: All Levels
Price: $
Why Whole30?
Free access to Whole30 program rules, shopping lists, common additives cheat-sheet, meal template and more
Free Whole30 bi-weekly email list
Access to online forum that connects community members
Extremely supportive and compassionate community to help you get through every stage of your Whole30
Consistently updated free blog content
Real Plans team that helps you build a meal plan designed specifically for you ($30-$100)
Healthy Mama, Happy Baby program is a step-by-step guide to making the best choices for you and your baby
List of Whole30 events
10. Born Fitness
Born Fitness was created out of the frustration Adam Borstein felt with information overload in the fitness industry. Born Fitness believes that health is more then just a diet, the gym, and what you see in the mirror. The website has a great "get started" tool that takes a quick assessment of where you are at to get you going.
Level: All Levels
Price: $-$$
Why Born Fitness?:
Detailed and vast free blog content with information on nutrition, motivation, fitness, recipes, and more.
Free assessment to give you a starting point
4 free downloadable guides
Online fitness coaching with personalized attention from three coaches
Adam Bernstein is a New York Times best-selling author and award winning health editor
Active online community
Whether you're looking to start a healthy and active lifestyle or continue the progress you already made – joining a community of like-minded individuals can provided much needed support.
The perfect community is out there. It's time to start looking!