Summer's here! Yikes, that was fast, wasn't it?
Your New Years resolutions are out the window, but you still haven't dropped the pounds you set out to do.
Now is the time to flaunt your curves in those awesome vintage beachwear and mini cocktail dresses. But if you think you're not in shape to flaunt it or bare it, then worry not. It's only going to take a few simple things to do to get into shape this summer. You just need to get down to doing the right stuff.
Here are four easy ways to stay fit during the summer.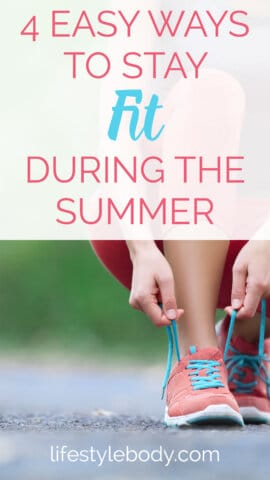 1. Set Your Goals
Yes that's right; you need to begin by setting your goals.
Whether it's your summer fashion favorite that's two dress sizes smaller, or an absolutely stunning two-piece swimwear, you need to have your eyes set on what you want to be able to fit into once your done with your summer fitness regime.
You're obviously going to have to stand in front of a mirror and take note of the areas that you want to focus on toning and getting into shape. More importantly, stand on a weighing machine because that's going to tell you exactly how many pounds you need to drop. Oh and don't forget to take a before picture for your social media diaries.
2. Get on the Track
An early morning walk is a great way to start your day on a positive note, even if it's a bloody Monday. It's also a great way to socialize and meet new people.
But more importantly, it counts as physical exercise and helps you lose weight by reducing blood sugar levels that tend to be high in the morning, and also by burning excess calories.
If you really want to reap the benefits of a good morning walk, try walking as briskly as you can. The faster you walk, the more calories you end up burning resulting in faster and greater weight loss.
The weight loss however is only one out of a handful of benefits of a morning walk. As an added perk, you'll also reduce the risk of developing chronic diseases such as heart disease, diabetes and stroke.
3. Hit the Gym
Of course, a walk won't do it all for you, you're going to have to put in a bit more effort to get into shape for the summers. Squeezing a an hour or two of gym time into your daily routine can be a bigger challenge than losing the weight itself simply because it requires a lot more dedication and conviction. Nonetheless, it is of equal importance.
Aerobic exercises will help you lose weight faster by creating a calorie deficit – burning more calories than you consume.
Toning your sides is probably on your to-do list for getting into shape this summer, which is why you would want to focus on a side abs routine that includes bicycle crunches, seated Russian twist and side planks. Some reps with light weight dumbbells will also help you tone your arms and legs.
While most basic aerobic and toning exercises can be managed at home, there's a very good chance that you'll get lazy. Hence you're better off hitting the gym.
4. Watch Your Diet
The bitter truth – you ain't losin' any weight till you watch what's going down your throat!
It's summer anyway, you might want to keep it light. Cut back on meat and foods high in processed carbs; not only are they high in unhealthy calorific value, but also make you thirsty… and fat!
Opt for fruits and vegetables in salads, juices and smoothies that have better high quality carbohydrate content and fewer calories.
These foods will help you stay healthy and lose weight faster. Not to mention, they'll also help to detoxify your body interestingly, red hot peppers too can help you lose weight by speeding up your metabolism.
Just as a side note, if you prefer yoga over the gym, that would do just as well!
Save