Do you have dreams of working from home? Of spending your days with your family and still making money?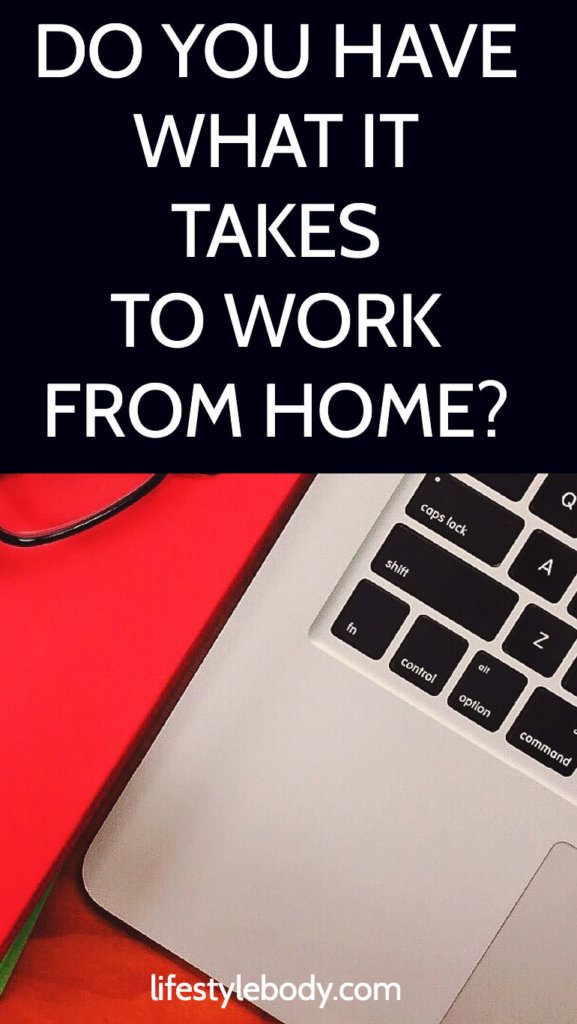 Working from home can be a wonderful experience. I started my own work at home journey when my 2nd child was born, a little over 5 years ago, and I wouldn't change a thing.
But let me tell you, it's not all waking up late and working in my pajamas.
Working from home can be stressful. And while many people may dream of not having a boss to tell you what you to do, the reality is, you don't have anyone to tell you what to do. If you don't set guidelines and boundaries for yourself, your work and productivity can really suffer.
So do you really have what it takes to work from home? Here are some question to ask yourself.
Am I Confident in My Abilities?
Working from home means being your biggest cheerleader.
You know you can do it, but believe me, there are going to be some roadblocks along the way. There may be times where you have a hard time securing work, making you doubt yourself and your abilities.
Or you may get let go from a job. These are all a part of working from home, and unfortunately, they can really bring you down. They may even chip away at your confidence. Remain confident in yourself and your dreams.
Remember, "It's failure that gives you the proper perspective on success." – Ellen DeGeneres
Am I Organized?
Managing your own business takes some organizational skills. No matter what type of business you want to get in to, there's keeping track of assignments, projects and clients, while making sure everything gets done on time. Beyond that, there's billing and payments; you want to make sure you're getting paid right?
Can I Take Charge of My Own Schedule?
No time clock, no boss and no direction means freedom.
But it also means everything is in your hands. You need to decide when and where you work, and be strict enough with yourself to not let anything get in the way. So, are you able to schedule your time?
Do you thrive on to-do lists and calendars? Working from home means being your own boss, and making sure everything gets done.
Do I Manage My Time Well?
Listen, sitting down and doing all your work from your home office sounds wonderful.
But it's rarely like that. There's taking care of the kids, helping with homework, cleaning, cooking dinner, grocery shopping. The list can go on and on.
When you work at home, you're taking care of the work and home. So you really need to figure out how to manage your time wisely in order to get it all done. Yes, your schedule is flexible, but you need to somehow get it all done.
Can You Set Boundaries?

This is a problem for me.
Well, not so much for me, but for my family and friends.
There always seems to be some people who seem to think "work at home" means you have all the time in the world. People drop in, call you up, want to just hang out. And that's fun and all, but no matter what you say, they can't seem to understand that you actually work.
But you do! And time is money. Working from home means you need to know how to set boundaries, for your friends and for yourself, to ensure you are working and getting it done.
Can You step Away?
Alternatively, there are some work at homers who have a hard time turning off work mode.
Are you are able to take a break from work, turn it off when you need to? I'm not talking about slacking off or just lounging on the couch all day.
I am talking about being able to step away from your computer to take time for yourself, to get down on the ground and play with your children, to you know, take a shower! If you're the type to go all in, make sure you are able to take a break now and then and take time for yourself. For example, scheduling a lunch date with a friend once a month can work wonders for your sanity.
Do I Have a Support System?
Finally, working from home doesn't mean going it alone.
Do you have people you can count on to support you through your transition?
To encourage you when you times get tough and you take you away from work when it's time for that much-needed break? And if you have kids, do you have someone who will help you out?
Many moms going into working from home with dream of spending as much time with their children as possible. But let's be honest, as cute as they are, they can be distracting. It can be nice to have someone take them for an hour every now and then so you can get work done. You know, without having to get up to make a snack, break up a fight or wipe … something.
While starting my own business and working from home has been the best thing for me and my family, I'm not going to pretend it was easy. If you're considering starting your own home business, ask yourself these questions to find out if you really do have what it takes.