Are you a writer, blogger or freelance writer?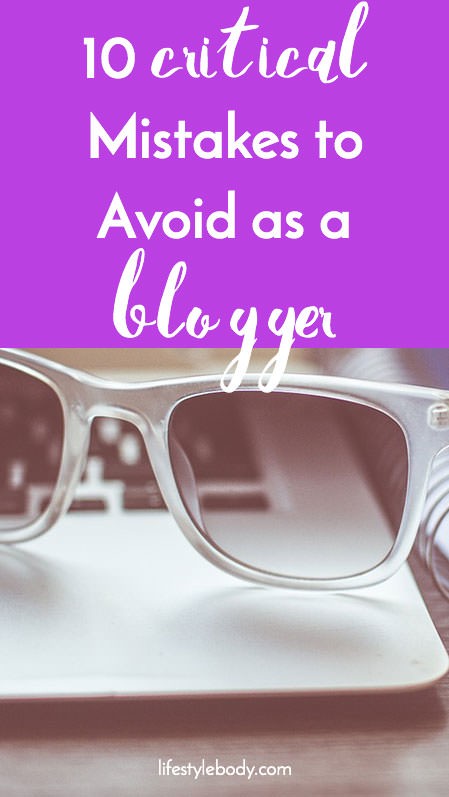 Even when you're trying to write the best blog post you ever published online, your readers may find something they don't like.
The human mind is really strange; it's attracted towards negativity. Your readers will immediately notice the flaws and they will focus their feedback on them, forgetting every positive aspect in your text. How can you avoid such a scenario?
It takes hours or even days to write a nice post, find the perfect images and distribute the published piece through social media channels.
All these efforts may not be enough if you keep repeating some of the critical mistakes that bloggers and other writers usually make. Keep your eye on these mistakes and you'll have a chance for more positive feedback.
1. Not Knowing the Reasons for Writing
Why did you choose to write a post on that exact topic? Never write something without finding a good reason for it! You are about to spend a lot of time on that publication, so the least you can do is write something your audience will appreciate.
How will the audience respond to the topic? Will you find enough facts to support your claims?
The most important question: will your post brings value to the collective base of online knowledge? Many other mistakes will emerge from this one. If you are writing just to get something published on schedule, you can't expect good results.
2. Not Paying Attention to the Titles
What's the first thing you read in an online publication? Of course it's the headline! When it comes to social media sharing, the title is even more important, since it's all people are going to see. If you don't make it really appealing, the post won't achieve its full potential no matter how awesome it is. There are few strategies that enable you to write catchy titles:
Use numbers and make lists,
Add attractive adjectives,
Ask a question you know your target reader has.
Subheadings are also important. They break up the text and add a little freshness. It's important to grasp the essence of the particular section into a single subheading, but you should also make it fun and inviting.
Some people only browse through the subheadings and see the images. That's your chance to get them to read more.
3. Neglecting Search Engine Optimization
Of course it's important to write high-quality pieces, but it's even more important to enable people to locate them through search engines, which don't have specific formulas that measure the quality itself.
Instead, Google relies on importance and relevance as the crucial factors for launching results. It wants to present exactly what people are looking for, so the use of keywords is certainly necessary if you want to get your publication among the first results.
4. You Write to Sell
What are your main goals for writing that post? Are you trying to get more visits to your website and sell some products or services? Maybe you're just trying to increase the number of readers to a blog? You're doing it all wrong.
A blogger or writer should have another priority on mind: make the audience happy! When you deliver what they want to read, the rest will follow. There are few strategies you can rely on:
Solve some of their problems,
Make them laugh,
Intrigue them with news and information they didn't expect,
Teach them something.
It's important to conduct a research and find out what your target audience is interested in. You can do this by monitoring social media channels or launching surveys. Once you identify a reader's wants and needs, it will be easier for you to hit the point.
5. Failing to Identify a Target Audience
When you are writing for an entire group of people, it's easy to start writing generic posts because you think they would be suitable for everyone. Don't do that! Each piece of content you write should be written with your ideal reader in mind.
One way to solve this issue is to write for a single reader instead of a group. Identify your ideal follower.
Who is the reader you are talking to? What tone does he appreciate? When you are sure you know him, you can address him directly in the post. Many people will relate to such blog posts because they will feel it was written for them.
6. You're Not Offering Anything New
Many bloggers and writers make this mistake: they discover great articles and blogs from influential websites, so they decide to reshape the same information for their own audience.
You can't do that if you want to prove your value as a writer. Of course you can elaborate an old problem, but you have to offer some new solutions. It's important to come up with unique angles when you approach the topics, so you'll identify yourself as an authority in the niche.
Donald Trump is currently a trending topic, right? Are you reading the hilarious posts and in-depth analysis that have something new to say, or are you opting for those that are repeating the same things all over again? The choice is obvious; you want to place yourself in the first category of writers.
7. Skipping the Call to Action
Why are you writing that post anyway? You don't want people just to read and completely forget about it, do you? Bloggers have few goals in mind:
They want to get comments,
They want to turn the readers into consumers,
They want tons of shares on social media pages,
They want great comments under their posts and social media updates.
There is one way to get your audience to do all these things: ask. Each post should have a call to action, which tells the reader what to do once he reads the post. Ask them to comment, buy the products/services you recommend, share the post on their social media pages, and anything else you have in mind.
8. Staying in the Comfort Zone
You attracted a decent number of readers and you want to keep them by sticking with the good-old strategies you have?
That's a good strategy to stick to if you want to become boring. That's not your goal, so you have to do something different now and then. The online world is a constantly evolving category. The same audience gets new interests and needs, so the things that worked a year ago might not be good enough today.
One of the main goals bloggers and writers have is creating liquid content – pieces that are highly shared across different channels. When some of them manage to create such post, they try to mimic the same style, but usually fail to achieve similar results. The reason for failure is lack of experimenting. The audience already saw that kind of post; now they are looking for something new.
9. Publishing Pure Text
Your audience will appreciate your post, but they will also want to see some images, infographics, podcasts, short presentations, or any other format of content that presents similar topics in a fun way.
There are plenty of online tools you can use to experiment with different formats of content. These are only few of the ones you can try:
10. You Haven't Found Your Unique Voice
All successful bloggers have powerful personas that shine through all pieces they launch. That's what their audience loves them for.
When the readers know they are going to find something different at your site or social media page, they will keep coming back to get more of your wit, enthusiasm, eloquence, humor, or any other characteristic that distinguishes you as a writer.
How do you find your unique voice? You practice!
Write without trying to follow the trends. Don't copy popular writers; you should become the one other people want to copy.
Avoid common jargon even if your audience likes using it too much. You should develop a style and tone that reflects your own personality. You already have it in you; you just need to convey your awesomeness through the things you write.
It's Time to Achieve Higher Levels in Blogging
Every single aspect of research, writing, editing and marketing is important when you're a content writer. The biggest mistake would be neglecting the importance of any of these stages. Stay focused throughout the entire process and make sure to avoid the mistakes listed above. That will give you a greater chance to connect with your target audience.