Busy moms need cars that can fit their kids and all the essential belongings on the way to school, practice or camp, but minivans are often seen as ugly and tend to be gas guzzlers.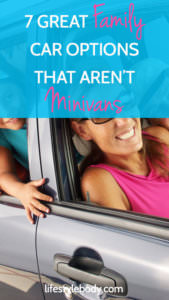 More and more mothers are turning away from minivans, but where exactly are they turning to for travel?
They're turning to sleek cars designed to save time, money and gas so the average mother can enjoy her life with her family even more.
Check out these amazing family cares:
1. Chevrolet Traverse 2LT FWD
The Chevrolet Traverse has received some of the highest crash test scores from the Insurance Institute for Highway Safety. It features comfortable, flexible seating that can accommodate up to 8 adults with ease. Smart Slide makes letting everyone into the third row easy as well. You'll also love the three zone climate control that allows everyone in the family to stay company.
A 288 horsepower V6 3.6-liter engine allows this car to drive smoothly for many miles before you have to change your gas tank.
Some other awesome features of the Traverse 2LT include a 10-speaker Bose audio system with full smart phone integration, Bluetooth connectivity, and full power accessories.
Base Price: $36,580
Gas mileage: City – 17MPG, Highway – 24 MPG
2. Ford Flex Limited
Safety was obviously Ford's first concern when they designed the Ford Flex. It features a blind spot information system and a rear-view camera, power lift gate and adjustable pedals with memory. You can also get a collision warning system with brake support as well as a number of other safety extras to make sure your family is always protected. The Ford Flex can seat up to seven people.
A 287 horsepower 3.5 liter V6 engine makes the Ford Flex an excellent choice for both city driving and road trips.
The Ford Flex also has a few other awesome features: MyFord Touch interface with voice control for multiple functions such as navigation system and cell phone, SYNC Bluetooth connectivity and a 12-speaker Sony Audio System with an MP3 player interface.
Base Price: $39,200
Gas Mileage: City – 18 MPG, Highway – 25 MPG
3. Infiniti JX35
Moms who have to accommodate large families and teenagers will absolutely love the Infiniti JX35. The second row seats come with a tilt-and-slide feature that makes it easy to create enough space for anyone to get into the third row. The Infiniti JX35 features seven seats and three zone climate control so everyone can stay comfortable.
The Infiniti JX35 also features a power lift gate, six airbags, a rear view monitor and several optional safety add-ons. Its engine is a 265 horsepower 3.5 liter V6, which offers less horsepower than many competitive cars but is extremely smooth to drive with.
Base Price: $42,650
Gas Mileage: City – 18 MPG, Highway – 24 MPG
4. Lexus CT 200H
This surprisingly affordable Lexus is ideal for smaller families who do a lot of errand running around town. It's the only hybrid car on this list, featuring a 1.8 liter four-cylinder engine paired with two electric motors for a total combined horsepower of 134. The horsepower might not be impressive, but this car will get you almost twice as far as its competitors on every gallon.
The CT 200H might only seat five but its interior is quite comfortable, if not quite as luxurious as the more expensive Lexus models. It does come with dual-zone automatic climate control so everyone in your family can stay comfortable throughout the entire ride. Other standard features include keyless entry/ignition, Bluetooth connectivity and an iPod interface.
Base Price: $32,050
Gas Mileage: City – 43MPG, Highway – 40MPG
5. Ram 1500 Crew Cab SLT
A pickup truck might seem like an odd choice for busy moms but this luxurious pickup truck actually seats up to six and has a shocking amount of interior storage space. It comes with rear parking cameras and a backup camera to increase your safety while driving.
The 305 horsepower 3.6 liter V6 engine is surprisingly efficient on gas for a pickup truck and allows for extremely smooth driving. The SLT uses a rotary gear selector instead of a shift lever to increase the fuel efficiency.
This awesome pickup truck also comes with full Bluetooth connectivity, full power accessories and an iPod interface to make road trips even more awesome.
Base Price: $33,820
Gas Mileage: City – 18MPG, Highway – 25MPG
6. Toyota Venza XLE
Moms who spend a lot of time running city errands will love the 181 horsepower 2.7 liter four-cylinder engine that gives the Venza a noticeable boost to fuel efficiency. The six-speed automatic transmission is driver controlled and allows for a nice, smooth ride. It does only seat five but it also features lots of room for your entire family's stuff.
Some of the standard features that make the Venza awesome include a rear-view camera and a power rear lift gate, seven air bags, reclining rear seats, leather-trimmed seating and a six speaker Bose audio system with Bluetooth connectivity and an iPod interface.
7. Volvo XC60 3.2
Last but certainly not least, the XC60 3.2 received the Insurance Institute for Highway Safety's highest crash test scores for three years in a row thanks to several features including front and rear parking sensors, a backup camera and a power rear lift gate. Ideal for small families, the XC50 3.2 only features five seats but the cabin offers plenty of room for everyone in the car.
The XC60 features a 240 horsepower six-cylinder in-line engine that provides excellent fuel efficiency on the highway and is only somewhat bogged down by city driving. It also comes with Bluetooth connectivity and an optional surround-sound system with an iPod interface.
Base Price: $34,450
Gas Mileage: City – 19MPG, Highway – 25MPG
Conclusion
The perfect car for you and your family is out there—and it doesn't even have to cost a fortune. Be sure to read a few reviews from other moms and take your ideal model for a test drive before you actually buy the car.