I was having a conversation with a friend a while back and he asked me how I knew I was ready to get married.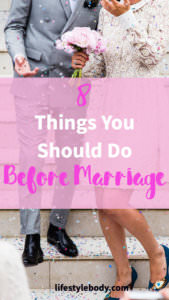 I had to think about it for a while because I can honestly say I didn't know I was ready to get married and have children to my now husband until we had several discussions about how we would behave as a married couple.
I always knew I was going to marry my husband, but the real confirmation came during Christian premarital counseling.
My husband says all the time that you have to be crazy to sign yourself up for marriage. To us the most important thing we needed to be on one accord about was our faith.
We think of our marriage as a covenant with God, not a commitment to each other. This covenant is serious to us and we didn't want to enter into marriage lightly.
With all the biblical consequences to failing at marriage I agree wholeheartedly that you have to be very brave and possibly very crazy to enter into a union without knowing some fundamental things about marriage.
Throughout this post I will try to give you some of the knowledge that we obtained in our premarital counseling sessions but aside from that I'll also tell you the eight conversations I had with my husband before we got married that let me know (1) he was the one and (2) I was ready to get married.
1. Faith
This is possibly one of the most important topics that a couple should discuss as this could possibly be the downfall of your entire union.
You must discuss how important your faith is with your spouse. Your spouse needs to understand from where your morals and values originated.
What role will they play in your marriage, your life, the raising of your children? Do you see your marriage as a covenant or a commitment? What is the difference? Do you expect your spouse to share your faith and hold it in similar esteem? How will you worship? Will you worship at all?
Disagreement in this area is bound to cause major problems down the line. Take care of it now.
2. Money
You need to know if your future spouse is a spender or a saver.
The way you manage your money could bring about many disagreements. While I can't tell you how to solve this problem I can tell you that you have to find a way to compromise on the issue of finances.
Developing and sticking to a budget, developing a savings plan and deciding how your money will be spent in advance of your marriage may ease some of the stress. You'll need to decide how you will handle large purchases and if you should consult each other when spending money.
There is also the discussion of maintaining separate bank accounts, creating joints accounts or a combination of both. Either way, you should both be open about your debts, spending habits and financial goals before marriage.
3. Roles and Expectations
You don't know how many people I know that enter into marriage and then suddenly one or both spouses drastically change. A couple should discuss how they view themselves in marriage as man and wife.
They should discuss the origin of their ideas about how a wife or husband is to conduct themselves in marriage. Was your mom a stay at home mother? Is your husband aware that you might want to stay at home too? Did your mom always have dinner prepared when your father arrived home from work?
Do you expect your wife to do the same for you? Make sure that your expectations are realistic. You can't always expect your wife to have dinner ready after she's worked 10 hours just like you. Who is going to be responsible for various tasks? Are you willing to help with household chores? Do you expect to be responsible for the finances in the home?
Do you want your wife to work? Often times we don't realize that there are some basic conversations about our roles that aren't discussed before marriage. Make sure you and your future spouse see eye to eye on these issues or at least are willing to compromise.
4. In-laws and Friends
This can be a really big deal and often a deal breaker in marriage. How will you handle your in-laws if they get too involved in the matters of your marriage? Will you let their advice and opinions take precedence over that of your future spouse?
Are you ready to cut that umbilical cord and be the leader of your own family? How involved will your friends be in your marriage? Will you tell them about every argument or disagreement? Will you take their advice in the matters of your marital problems?
A couple needs to decide what will stay between the two of them and what is allowed to be discuss outside of the marriage.
5. Sex
Couples need to understand the sexual needs of their partner. Sex can be a beautiful part of marriage but often times a couple may find themselves in a position where they are not having a satisfying sex life.
How often do you expect to be intimate? How do you both define intimacy? What do you require in order to have a fulfilling sex life? How will you deal with those times when you are both tired, busy or stressed?
Women and men can be very different when it comes to sex. Does your husband expect you to initiate sex often? Is this okay with you? Do you require plenty of romance from your spouse? Are you willing to make sure your future wife feels loved and cherished and not solely the object of your sexual desire.
How will your respond to your husband's sexual advances when you just aren't in the mood and vice versa.
6. Conflict Resolution
How will you handle arguments in marriage? You have to learn as a couple how you will handle disagreements and face them head on.
What is your style for handling conflict and how is that the same or different from your spouse? Do you both have skills to work through your problems? Will you be open and honest without hurting the other's feelings? Can you learn to fight fair? How good are you at listening and really hearing what your spouse is saying?
Commit to having communication that his healthy for the marriage.
7. Children
How are you going to raise your children? Do you even want to have children? Do you agree on how to discipline them?
What about their schooling and faith? How will you make time for your marriage when you have children? Will they become your new priority? Discussion of these issues is key to creating a solid family structure not only for your children but for husband and wife.
8. Career
If you are a young couple you may or may not be fully established in your respective careers. This can cause great strain on a couple because while you are invested in your marriage, your career choice may be very demanding.
You have to agree to accept each other's careers and discuss how they will affect your family. What happens if a spouse is offered a job in a different city? How much quality time to you expect to spend with your spouse when they are working long hours or have demanding projects?
Can you be understanding when you feel neglected? Are you willing to set boundaries at work to ensure that your family gets the attention they require and deserve? What type of support (financial, emotional, etc…) does your spouse expect from you when it comes to their career choice?
Above all else, you have to be willing to put your marriage first.
There will be several issues in life that will pull at your marriage, but you have to practice open communication about how you plan to work through these issues. You can't possibly discuss every scenario before you get married but consider starting a dialogue about these topics.
You don't have to agree on everything but at least you won't go into the marriage having with unmet expectations.
What other things should a couple discuss before marriage?