A question that many moms ask themselves daily is, "what the heck am I going to feed my kids?"
When you take the kids on the road then the question gets harder to answer. What if the trip is abroad, where the culture and food are more exotic and unfamiliar?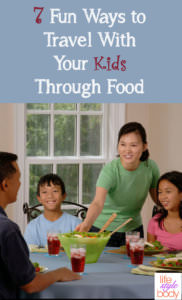 Where ever you are, you end up finding that there isn't Mac 'n Cheese and chicken nuggets on the menu. That's a scary thought for some parents, especially if their children are picky eaters. However, there is a simple solution that requires no travel. Put the world on their plate by experimenting with global cuisine at home.
Palettes develop and change over time, but by exposing kids to a variety of flavors and spices early, it allows them to become accustomed to more exotic dishes sooner.
That's not to say that every child is going to like everything they try. It's about exposing them to what is out there. It is actually quite surprising what kids will eat when given the chance to explore.
Dine Out
Even if it's not in the budget to travel somewhere exotic, finding time and money to dine out is a great way to try different styles of cuisine. Sometimes the excitement of being out at a restaurant will motivate kids to try new things. For instance, I try to take at least one day each weekend to explore a new restaurant. Here are some ways to make it fun for them:
1. Have Them Chose the Restaurant
If you give the children options and make them part of the decision making process, they will tend to be more adventurous with their food choices because they feel like they have some level of control.
A fun way to make dining out feel like a mini vacation is to tell the kids you're going on a trip for dinner and they get to pick the destination. You can present them with the options and let them choose, or if you have a map or globe have the kids point their finger randomly on a location and find a restaurant that serves that style of cuisine.
2. Prep Your Children On the Menu
Pull up a menu online and run through it with the kids before arriving, that way they have an idea of what they might want to order. The last thing you want is to be seated and have your child decide they don't want anything, because they are unfamiliar with the food options.
If there is a restaurant that you as a parent want to try but your child did not participate in choosing the restaurant, just prep the child ahead of time about the food and its country of origin and make it sound really exciting.
3. Find Restaurants That Have A Nice Ambiance
Kids are creatures of environment and eating something new will be really scary for them in an uncomfortable setting.
A restaurant that has comfortable seating, nice lighting, a pleasant smell and music will tend to add to the dining experience. Yes, even for kids. If there aren't restaurants like this near you, this atmosphere can be created at home.
Travel the World at Home
Maybe money is tight or there aren't many exotic dining options in your hometown. Maybe you are saving for that dream vacation and are avoiding dining out. Preparing globally inspired dishes at home is an easy and budget-friendly way to introduce new flavors to the family. Here a couple of ways to explore new food in the comfort of your home.
4. Create a Themed Evening
Let's explore the country Greece for example. Pick out a movie that takes place in Greece such as Mama Mia or Sisterhood of the Traveling Pants, incorporate the colors blue and white into your dinner theme and play music representative of the county while you are cooking.
5. Let the Kids Help
Kids love to feel like they are contributing. Letting the children help with the prep, like helping to ensemble the feta and olive platter, makes them feel important and excited about the meal.
Yes, the goal is to get kids to like diverse foods, but what they gain is so much more. In the process of simply eating new foods, they are learning about different cultures and gaining appreciation for the world around them.
Deliciously Healthy
The best thing about integrating international cuisine into your diet is that you tend to eat healthier. Let's be honest, the American diet isn't the best.
Once you start experimenting with other countries' traditional dishes, you'll find that there is an increase in healthy ingredients. The flavors are so delicious that is not hard to eat a whole plate of vegetables with pleasure. Here are more ideas to inspire you to make exotic food apart of your regular dinners.
6. Give Kids Freedom to Choose Their Ingredients
In my experience, Pho is a fun way to let kids experiment with healthy eating practices. Get them a bowl of vegetable Pho and just let them add the ingredients they want.
Kids love to mix and create, so allowing them the freedom to put their own goodies in their soup entices them to eat the vegetables they chose.
7. Lebanese Cuisine is Loaded with Healthy Options
Meat is rarely the main course, but more of a complement to the many vegetable and yogurt based dishes Lebanese food has to offer.
Try mixing Tabbloueh (a wonderfully fresh parsley salad) with some wheat pilaf (a bulgur grain) and watch as the kids scarf it down. Most kids like breads, so try warming up whole wheat pita bread and let the kids dip them into Hummus or Baba Ganoush. They'll be getting a healthy portion of garbanzo beans and eggplant, without even realizing they are eating healthy.
For adults, eating somewhere new is an exciting part of travel, but not so much for kids.
Most kids eat to live rather than live to eat, so getting them to branch out of their limited culinary mindset can be tricky. Whether you are really leaving town or just want to try a new ethnic restaurant in town, you'll want your kids on board.
Getting your kids familiar with different styles of cuisine not only helps prep kids for travel, but also gives them knowledge about the world and more avenues for making healthy eating choices. Traveling with your kids through food yields full bellies and happy hearts!
What new foods have you let your children explore? Any ticks you use to help your child try new exotic food?