While the old adage, "age doesn't matter," rings true for women who've fallen for an older man, what most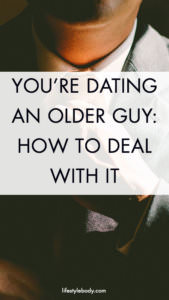 people don't know is it doesn't stop there.
Age plays a crucial role in the success of a relationship and you know this very well if have dated someone older or are dating someone who is significantly older than you are. Yes, it definitely has its perks but it also comes with a number of major challenges you've got to overcome if you believe that you + him = "forever." Here are some of them.
1. He Gets Looked at as Your "Father Figure"
People can't help but comment about how he looks more like a father than a boyfriend to you, something that makes you wince all the time.
Some would go as far as to refer to him as your "old man" which is all kinds of screwed up, too, but you know you can't do anything about it. Yes, they probably didn't have any intentions of offending you, but it still sucks to hear them say it.
How to deal:  Let people who tell you this know that it's not the first time you get this "compliment" in the most polite and respectful way that you can. This will somehow make them back off.
2. He May Have a Past That You'll Have to Deal With
While this may not be the case for everyone, there are some who find themselves dealing with their older boyfriend's ex-wife and his children.
If his ex-wife's still hasn't gotten over him, you can be sure that she's going to make your life a living hell. It's never going to be easy but one thing's for sure: they're an irreplaceable part of his life so the earlier you accept it, the sooner you'll know how to deal appropriately with them.
How to deal:  Talk to your older boyfriend about how you'll do your best to connect with his children but that you won't force the relationship with them. When it comes to the ex-wife, just be civil. Know your rights and defend yourself if the situation calls for it.
3. He May be Dealing with Various Health Issues You Don't Know a Thing About
Let's face it.
He's not getting any younger and so is his body.
Soon you'll have to deal with things like cholesterol, hypertension, and prostate – things you've only heard in your science class but you've never actually imagined to be dealing with at one point of your life.
How to deal: Talk to him about having regular medical check-ups. Be on top of his needs, including those concerning his health.
4. He May be Stuck in His Ways
Because of his age, he may have decided to stop doing things you'd normally find exciting like going to clubs to party or traveling to places from time to time. This lack of spontaneity can soon become old, old enough that the relationship becomes boring.
How to deal: Ask for his ideas before you start planning dates and getaways. If he lets you decide on your own, prepare something that can make your bond stronger than ever, despite the age gap.
5. Introductions to Your Social Circles Can Get Kind of Awkward
You don't look forward to having your loved-ones meet him because you know it can get uncomfortable on both sides.
There will be nerve-racking convos and Q&As which you don't wish to be a part of but it's not like you have a choice. You are always to his rescue when you feel like he's being "attacked" by your friends and family members.
How to deal: If possible, talk to your friends and family members first and set expectations before meeting them while you're with him. This way, you can avoid awkward Q&As and lessen the pressure and stress on him.
6. You Often Get Crazy Questions About Him (And Unsolicited Advice, Too)
You don't feel like mingling with your relatives or friends during special occasions because you get asked out-of-this-world questions about how you two met (they always assume it's in a bar or a hotel) and how you've fallen for each other (because your age gap is just huge). You'd love to give them the details but you find yourself afraid they won't believe you.
How to deal: Give anyone who ask a general answer or just shrug off the question as politely as you can.
7. Your Circle of Friends Will Be Totally Different From Each Other
Your friends are at their twenty or thirty-somethings and his buddies will be the same age as he. When you all sit down together to talk over coffee or brunch, expect that their ideas won't mesh.
Your friends may bring up topics his older generation buddies may not even know about or vice versa. It will be all kinds of messy and confusing in the beginning but you'll all get the hang of it over time.
How to deal:  Do group dates as often as possible so you'll have more time to get to know each other and bond as a group. This will prevent awkwardness and may even help develop stronger relationships.
Dating a significant older guy doesn't have to be impossible, despite the challenges you'll face. With perseverance, patience, and an open-mind, you'll get to stay with him and get your happily ever after.
Good luck!